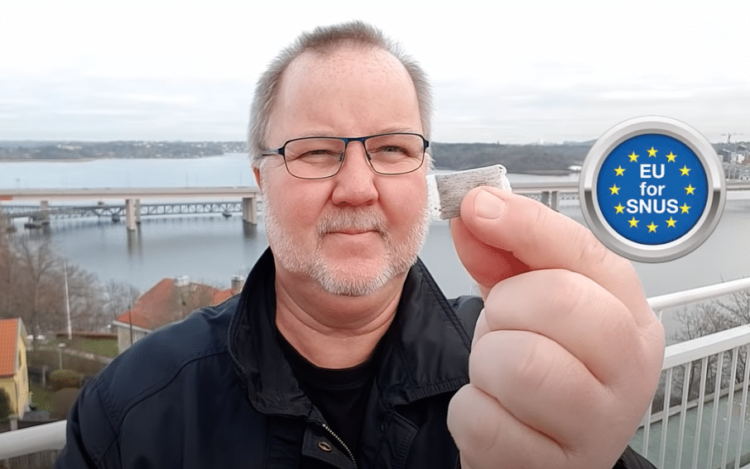 Bengt Wiberg: one inventor's fight to legalise snus in the EU
In the first instalment of Snusforumet's Harm Reduction Heroes series, Snusforumet catches up with Bengt Wiberg, a Swedish entrepreneur whose passion for snus has spawned a global movement to legalise snus in the EU – as well as patents to help make the Swedish smokeless tobacco product more palatable and accessible to adult smokers and other nicotine users.
If you've been following or active in online debates about snus, chances are you've come across Bengt Wiberg or the advocacy network he helped found, EUforSnus.
Whether through sharply-worded tweets or thoughtful responses at important tobacco or nicotine policy gatherings – in-person or online – Wiberg is always engaged and on-message.
Recently, the jovial Swede sparked headlines around the world by getting rock guitar legend Slash to open up about how snus helped him stay off cigarettes during an interview with on Swedish radio channel Rockklassiker.
From dual-user to smoke-free
Wiberg's passion for snus goes back almost 30 years. At the time, it was becoming increasingly common for snus to be sold in pre-packed pouches rather than as traditional "loose" snus. In addition to the innovation in delivery, more flavours were appearing on the market which temped the former smoker to experiment.
The new nicotine delivery option appealed to Wiberg, and after several years as a dual user, he eventually managed to quit smoking thanks to snus.
"Snus is my companion whenever I need it and it doesn't bother anybody else," he tells Snusforumet.
"It's a safer way of consuming nicotine that also helps me stay focused."
While Wiberg was thankful that snus had helped him quit cigarettes, he discovered the smokeless tobacco product sometimes caused a burning stinging sensation that irritated his gums.
Taking the 'sting' out of snus
Rather than simply putting up with the problem, however, Wiberg decided to do something about it.
He began developing technology for adding a protective layer to snus pouches to shield users' gums and diminish the stinging sensation without affecting the flavour or nicotine experience.
In 2014, he founded Sting Free AB, a Sweden-based company of which he is now the President while his oldest son Daniel serves as CEO. The technology has since been patented in the US and Sweden, and a pan-European patent is in the works.
While the initial motivation for pursuing Stingfree Snus may have been personal, Wiberg is quick to point out he quickly understood the potential public health benefits of taking the sting out of trying snus.
"We carried out surveys and tests that revealed the burning sensation on users' gums is a deterrent to trying snus or nicotine pouches for nine out of ten smokers," he explains.
"By taking the sting out of snus, we make it easier for smokers to switch to reduced-risk, smokeless nicotine products and reduce the chances that they will revert back to smoking due to problems with their gums like those I suffered from before I invented a solution."
A harm reduction advocate is born
But Wiberg's dedication to snus didn't stop with being an inventor and entrepreneur. Around the same time that his efforts with Stingfree started to take shape, he stumbled across a video interview featuring Professor Gerry Stimson, who at the time was chair of the New Nicotine Alliance (NNA) UK.
In the video, Stimson was discussing the ongoing legal battle to overturn the EU's snus ban. Wiberg found himself intrigued by the case as well as the NNA's wider tobacco harm reduction advocacy efforts.
Ahead of the January 2018 European Court of Justice (ECJ) hearing that would decide the fate of snus in Europe, Wiberg reached out to NNA expressing his interest in joining the cause.
"I came to the conclusion that since snus had done so much for me and my struggle to quit smoking, I should do something for snus," he recalls.
"So, I come up with the hashtag #EUforSnus and started sharing it on social media to spread the message and facts about snus and how it helped Sweden almost becoming a smoke-free nation."
Wiberg then found himself invited to participate alongside NNA UK at the ECJ court hearing in Luxembourg alongside Stimson, Atakan Befrits of NNA Sweden, and German snus enthusiast Uwe Hille of snusfreak.com, who also helped launch the #EUforSnus hashtag.
Wiberg's hashtag ultimately morphed into an online advocacy movement that spans the globe. Today, the movement encompasses thousands of members from almost 100 countries, more than 80 percent of whom identify as former smokers.
"Most people outside Scandinavia had almost no knowledge of snus," he explains.
"They spent most of their time talking about vaping. I wanted to make sure people also heard about snus."
Since the group's founding, Wiberg has used the platform to interview several prominent researchers and harm reduction advocates, including Brad Rodu, Konstantinos Farsalinos, Gerry Stimson, Marewa Glower, Lars Ramström, Derek Yach, and several other researchers and advocates.
Keeping up the fight to legalise snus in the EU
Despite the ECJ ruling to keep the EU snus ban in place, Wiberg is still committed to ending the "unjust" snus ban which he says deprives the EU's roughly 100 million daily smokers of a safer nicotine alternative.
"We plan to continue as a movement and be a thorn in the side of EU bureaucrats," he explains.
"Today, it's rare to encounter an international discussion about tobacco harm reduction that doesn't mention Swedish snus. For me, this is a personal triumph of which I am very proud."
Another highlight in Wiberg's still young career as a tobacco harm reduction advocate was the 2017 Global Tobacco & Nicotine Forum (GTNF) conference in New York City.
At the event, Wiberg managed to get Mitch Zeller, director of the FDA's Center for Tobacco Products, to publicly acknowledge the "Swedish Experience" of tobacco harm reduction thanks to snus.
At the event, Wiberg also received the Golden Leaf Award for being "The Most Exciting Newcomer to the Industry". The citation called his Stingfree invention "the greatest snus innovation since the invention of the pouch".
Looking ahead, has big plans for his Stingfree technology, aiming for it to become an "alternative standard" in the oral nicotine industry.
"The first step will be launching our own Stingfree brand, cementing the proof-of-concept, before then licensing the technology to others."
He also plans to keep fighting to legalise snus in the EU, even if he acknowledges it's an uphill battle.
"EU policymakers first need to acknowledge that nicotine on its own does not cause cancer. Inhalation of smoke from combustible tobacco products does," he says.
"Snus is a low-risk nicotine product and the main reason why Sweden has reached the WHO smoke-free status. But 100 million European smokers are still deprived of a much safer nicotine alternative because of EU politics and posturing."