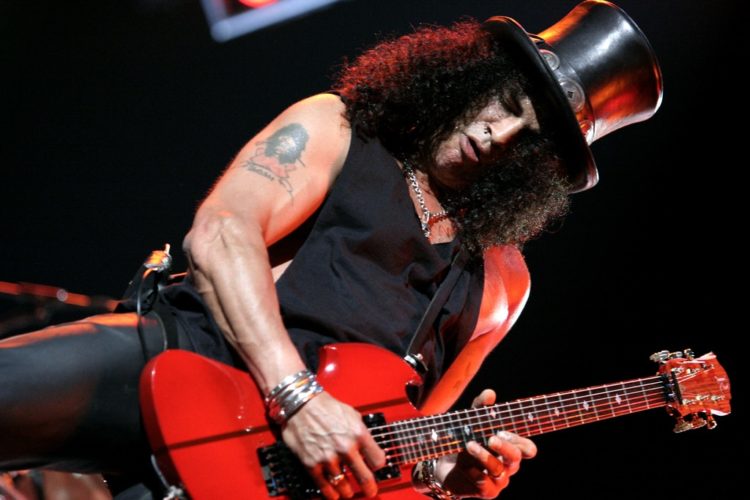 Guitar hero Slash: Snus 'the best discovery in the world'
Rock star Slash, lead guitarist of the iconic 90s rock band Guns N' Roses, has re-affirmed his love for Swedish snus.
"When I first quit smoking, which was in 2009, pretty soon after that I discovered snus and it was like the best discovery in the world," the 56-year-old guitar virtuoso said in an interview on Rockklassiker. Sweden's largest hard rock radio station.
Ahead of the interview, the radio station asked audience members to submit questions to Slash via its Facebook page.
One of those listeners was Bengt Wiberg, a snus enthusiast and inventor who heads up the international pro-snus consumer movement #EUforSnus.
"I think it is great that you quit smoking by help of Swedish #snus and love it!" Wiberg wrote.
"Do you support an end to the European Union snus ban and do you support #EUforsnus?"
An important question that will be asked to guitar legend @Slash on Sweden's no 1 #Rock radio station #Rockklassiker tomorrow Wednesday night. Enjoy the show and congratulations to #Slash for quitting smoking with #snus! Time to end the #EU #snus ban! pic.twitter.com/Jq8NYLyLgN

— EU4Snus (@Eu4Snus) January 25, 2022
Snus helped Slash quit cigarettes
Much to Wiberg's delight, the Rockklassiker host ultimately asked Slash about his experience with Swedish snus during the live broadcast.
The rock legend explained that he had used snus for "years and years and years" after he quit smoking.
"I was like, 'Oh my god, this is the greatest!'," he explained, adding that he used to have General Snus shipped to him from Sweden.
Wiberg, who tells Snusforumet he is "extremely happy" with Slash's response, also praised the guitarist for being so honest about his nicotine habits.
"Most rock stars and celebrities are very secretive about their private life. But Slash is the opposite," says Wiberg.
"He's totally open about his long struggle to quit smoking and open about what kept him smoke-free."
The interview wasn't the first time Slash has professed his love of snus. When on tour in Sweden back in 2013, he made headlines with a tweet when he arrived in the Swedish capital.
Just arriving in Stockholm. Going to pick up a surplus of Snus whilst here; the other bad habit I acquired since giving smoking. iiii]; )'

— Slash (@Slash) February 22, 2013
"Just arriving in Stockholm. Going to pick up a surplus of Snus whilst here; the other bad habit I acquired since giving smoking," he wrote.
A bridge from smoking to being nicotine-free
Slash also visited Swedish Match's flagship snus store in Stockholm's upscale Stureplan neighborhood when in town for a concert in 2015.
During the visit, he was able to make some homemade snus and received an "informative background on snus and how it's made" he told Swedish public radio at the time.
While Slash continues to heap praise on snus and its role in helping him quit cigarettes, he has since managed to quit nicotine altogether. In the recent interview with Rockklassiker he said he used snus from "about 2009 to 2015" before finally quitting once and for all.
The Guns N' Roses guitarist's experience with snus demonstrates how lower-risk nicotine products like snus can help adult smokers quit cigarettes. He also shows how snus can be a stepping stone toward giving up nicotine completely, rather than a gateway toward smoking — as is often claimed by anti-tobacco activists.
"Slash is a great example to hold up to the world to show that snus is a better alternative than deadly smoking," says Wiberg.
He points to a 2016 scientific study authored by Lars Ramström that found that 76.3 percent of male and 71.6 percent of female smokers successfully quit cigarettes completely after switching to snus. Furthermore, 31.5 percent of the men and 28.6 percent of the women who quit smoking with snus ultimately managed to – like Slash – quit all forms of tobacco.