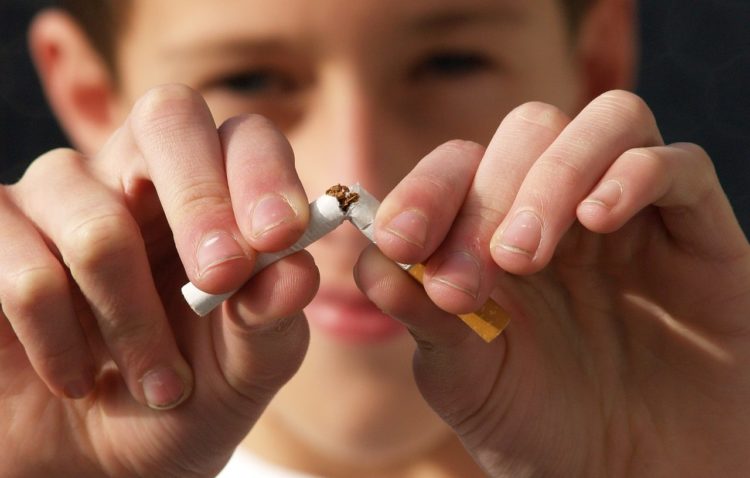 Snus brings Sweden even closer to 'tobacco endgame' goal
Smoking rates in Sweden continue to fall, with levels now below the internationally recognised "tobacco endgame" goal of five percent for an increasing share of the population. The new figures also suggest snus plays a role in the drop.
Only six percent of Swedes smoke daily according to fresh figures from Sweden's Public Health Agency, Folkhälsomyndigheten, down from seven percent in 2020.
Since 2015, the percentage of daily smokers in Sweden has dropped by 40 percent.
The new figures also reveal that daily smoking among people aged 16-29 has dropped to only three percent, down from eight percent in 2015 – a more than 60 percent drop in five years.
At the same time as smoking among Swedish under 30s has fallen, use of snus in the same demographic has risen. In 2015, 11 percent of Swedish women aged 16-29 smoked daily, while five percent considered themselves daily snusers.
Winning the 'tobacco endgame'
By 2021, however, the percentages are nearly reversed, with nine percent choosing snus and only three percent choosing deadly cigarettes. The rate is well below the five percent target set in many countries as a part of their own smoke-free strategies (including Sweden), and called for by the WHO-inspired "tobacco endgame" approach adopted by tobacco control movements around the world.
"For the first time ever in Sweden, more young women are snusing than smoking," says Patrik Strömer, Secretary General of the Association of Swedish Snus Manufacturers.
"This should be great news for anyone concerned about the effects of smoking on public health."
Sweden has long had the lowest smoking rates in the EU, where smoking levels remain above 18 percent – more than three times higher than Sweden.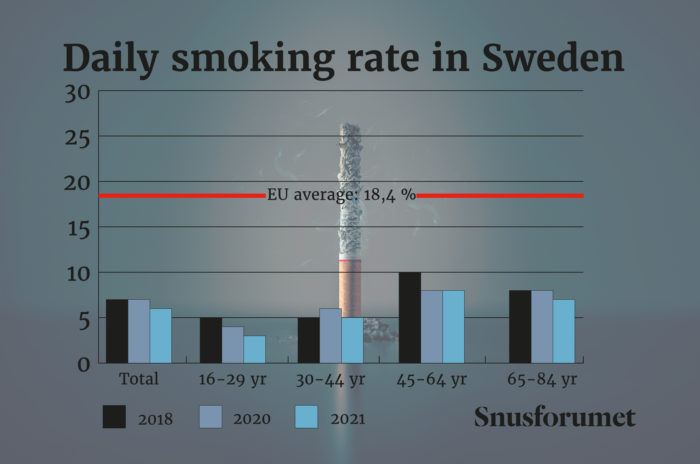 Sweden is also the only country in the EU where snus is legal, giving Swedes access to a less harmful alternative that remains unavailable to the rest of Europe's estimated 100 million smokers.
While snus has long accounted for the majority of tobacco use among Swedish men, resulting in one of the lowest rates of tobacco-related mortality in Europe.
However, Sweden has also been the only country in the EU with a higher proportion of smokers among women than among men, resulting in higher rates of lung cancer and other smoking-related diseases among women as a result.
But the previous stigma among Swedish women against snus has faded in recent years as Sweden has expanded the country's smoking ban and new reduced-harm products like nicotine pouches have come on the market.
Snus helps women quit smoking
Swedes have previously indicated that snus is the most effective way for them to quit smoking, and the new figures indicate women are making the choice as well.
Speaking with Sweden's TT news agency, 30-year-old Anahita Shiri from Malmö said she started snusing in recent years to help her quit smoking.
"I felt it was time to stop, because I felt it in my lungs a little too much," she tells TT.
"I don't stink and I don't cause any harm to those around me. I can also use it anywhere; I don't have to go outside."
That more women now choose snus over cigarettes is a clear public health win according to Strömer.
"In the future, we can expect fewer cases of lung cancer and other smoking-related illnesses among women, hopefully matching the success already seen among Swedish men," he tells Snusforumet.
However, Strömer remains frustrated that policymakers and "tobacco endgame" advocates fail to see the connection between the availability of less-harmful alternatives like snus and the health benefits of having fewer smokers.
"More snusers means fewer smokers. Snus helps smokers quit and prevents many others from ever starting," he says.