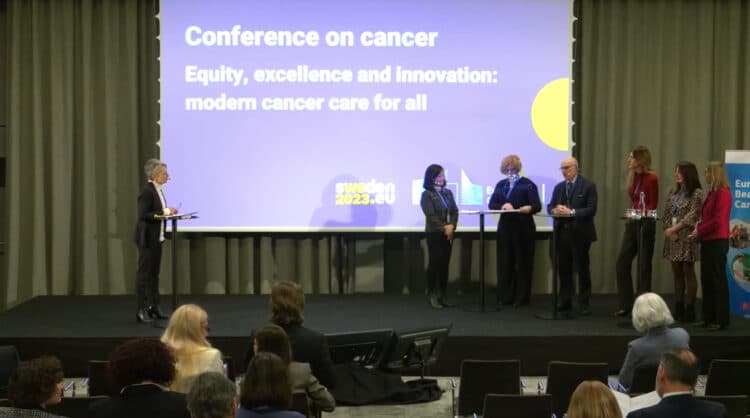 EU cancer summit snubs Swedes' lung cancer success: 'A missed opportunity'
Sweden boasts the EU's lowest lung cancer rates, thanks largely to the prevalence of Swedish snus. Yet a high-level EU cancer conference hosted in Stockholm as part of the Swedish EU presidency failed to highlight Sweden's success in combating the disease.
"A missed opportunity," says Patrik Strömer, head of the Association of Swedish Snus Manufacturers.
The primary theme of the EU cancer conference, entitled "Equity, excellence, and innovation – modern cancer care for all", was to highlight inequalities in cancer care and prevention across the EU.
"All people in the EU, wherever they live, should have the same opportunities to prevent, to be treated for, and to survive cancer," said EU Health Commissioner Stella Kyriakides in her opening remarks.
She called cancer "one of the major health challenges of our time", singling out lung cancer specifically as "by far the most common" cause of death from cancer. She also referenced the EU's beating cancer plan, which includes targets to have a tobacco-free generation by 2024.
"What is even more worrying is the two-fold difference in cancer mortality across the EU," said Kyriakides.
"In fact, between and even within countries, mortality rates, risk factors and access to care vary hugely, depending on socioeconomic status, gender or age."
Disparity in EU lung cancer rates
Such disparities are exemplified by the vast difference in lung cancer rates across the EU. Men in Hungary – the country with the EU's highest lung cancer rates – are more than three times as likely to develop lung cancer than men in Sweden, home to the EU's lowest incidence of lung cancer among men (45 cases/100,000 in Sweden vs. 140 cases/100,000 in Hungary).
According to the latest Country Cancer Profile published by the EU and OECD, Sweden's lung cancer rate (7 percent) is half the EU average (14 percent). The document also references the fact that Sweden has the EU's lowest smoking prevalence.
"It's baffling that Sweden's best-in-class results combating lung cancer were more or less ignored at this EU cancer conference," says Patrik Strömer, head of the Association of Swedish Snus Manufacturers.
"As host of this high-level conference and holder of the Presidency of the Council of the European Union, Sweden could have helped inspire the rest of Europe on ways to reduce the death and suffering from this terrible disease. It was really a missed opportunity to spread awareness about the Swedish Experience."
Snus: a tool to reduce lung cancer
Strömer adds that it's "extremely unfortunate" that EU health officials and Swedish government representatives appear to be "willfully blind" when it comes to the common factor behind Sweden's low smoking and lung cancer rates.
"Swedish snus has been the preferred form of nicotine consumption among Swedish men for some time now, and the public health benefits of choosing a less harmful form of nicotine are obvious," he explains.
"The Swedish Experience with snus is proof of concept for the benefits of tobacco harm reduction. But neither Swedish government representatives nor bureaucrats in Brussels seem willing to admit it."
'Sweden shouldn't be the exception'
Swedish MEP Sara Skyttedal has also expressed her frustration at the European Commission's failure to recognise the potential for snus and other harm reduction alternatives for reducing tobacco-related mortality as part of the EU's beating cancer plan.
"If you are serious about doing something about tobacco-related mortality, it's simply impossible to ignore snus, given what we know about the statistics on tobacco and cancer," the Swedish MEP told Snusforumet in late 2021.
Strömer points to research connecting snus use to Sweden's record low tobacco mortality and lung cancer rates.
"If this EU cancer conference was really concerned with eradicating inequalities in cancer care and prevention, organisers should have discussed Sweden's success and what could be done to ensure all EU citizens had equal access to smokeless nicotine products that are far less deadly than cigarettes," says Strömer.
"Sweden shouldn't be the exception in Europe when it comes to snus and lung cancer, it should be the norm. If that were the case, the EU would actually have a fighting chance at beating lung cancer."