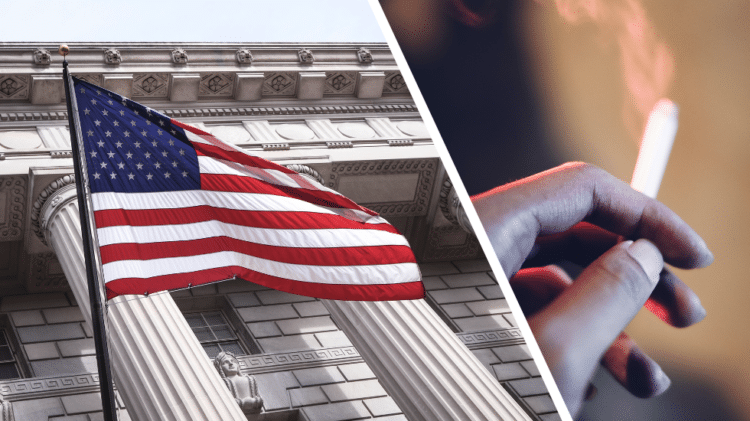 US joins global shift from cigarettes to safer alternatives as smoking rate hits new low
The US daily smoking rate recently hit a new historic low, echoing similar patterns in Japan, Norway, and Sweden, where the increased availability of lower-risk nicotine alternatives has coincided with a drop in cigarette use.
Fresh figures from the US Center for Disease Control (CDC) reveal that daily smoking rate in the US has fallen to nearly 11 percent. The findings come from the latest edition of the National Health Interview Survey, which gathers data from 27,000 adults aged 18 and above.
"It's fantastic that smoking continues to drop in the country that once brought us the Marlboro Man," says Patrik Strömer, head of the Association of Swedish Snus Manufacturers.
US smoking rate plunges as smoke-free alternatives boom
From January 2019, daily cigarette smoking in the US has fallen from 14.4 percent to 11.1 percent. At the same time, e-cigarette use rose from 4.4 percent to 6.0. Over the same period, sales of nicotine pouches have doubled each year since 2019, reports NBC Boston.
"It goes to show that, given the opportunity, consumers will choose less harmful forms of nicotine over deadly cigarettes," said Strömer.
Cigarette smoking accounts for 90 percent of lung cancer cases in the US and has taken lives at a staggering rate, surpassing the combined death toll of all US wars, according to CDC figures. But adult daily smoking rates have fallen by roughly half since 2009, when 20.9 percent of adults smoked.
While tobacco control measures and anti-smoking campaigns have played a role in the decline, the rise in popularity of less harmful alternatives like e-cigarettes and nicotine pouches have also likely helped many Americans quit cigarettes.
"Electronic cigarettes can certainly go through the process of approval through the FDA to be a smoking cessation therapy," Dr. Joanna Cohen, Professor of Disease Prevention at the Bloomberg School of Public Health at Johns Hopkins University, told the Public Health On Call podcast.
Rethinking nicotine alternatives and smoking cessation
Cohen co-authored a recent commentary published in the New England Journal of Medicine advocating for a new approach to smoking cessation therapies that could include reduced risk nicotine products.
"Eventually we want to help people get off the electronic cigarettes because it still involves a nicotine addiction. But at least getting off cigarettes is the most important step," she said on the podcast.
She cited a recent Cochrane review report affirming that e-cigarettes are more effective than nicotine replacement therapy for smoking cessation, with higher quit rates, arguing the potential of smoke-free alternatives in smoking cessation cannot be ignored.
"There's such a variety of products out there. They have different nicotine concentrations and deliver nicotine in different ways and at different rates. We want to learn which products are most effective," said Cohen.
The heat-not-burn revolution in Japan
The latest US data reflects a similar trend as in Japan, where cigarette sales have sharply declined while the popularity of "heat-not-burn" (HTP) products has soared.
Introduced in 2014, HTP products have had a significant impact on smoking rates in Japan, now the global leader in the market with an 85 percent share of international sales.
A Frost & Sullivan study reported a 34 percent decrease in cigarette sales in Japan between 2015 and 2019, attributed to HTP products. The study found that 76 percent of HTP users exclusively use these products, suggesting they serve as a viable substitute for cigarettes.
US and Japan mirror Scandinavian snus success story
The growing popularity of non-combustible, low-risk nicotine products in the US and Japan echoes evidence from Sweden, which is on the verge of becoming the world's first smoke-free country, thanks in large part to snus.
Consumers in Sweden report that snus serves as an effective method to quit smoking, and in neighbouring Norway, the rise in popularity of snus has also coincided with a drop in smoking rates. From 2001 to 2018, smoking rates in the 16-24 age group in Norway witnessed a remarkable 90 percent decline.
The public health benefits of the 'Swedish Experience' with tobacco are well documented. It remains to be seen if the shift to non-combustible forms of nicotine now seen in Japan and the US will have similar public health benefits.
"Snus has been available in Sweden for hundreds of years and we've been able to observe its impact on smoking and public health here for decades," says Strömer.
"It's clear that adult smokers in Japan and the US are abandoning deadly cigarettes in favour of less harmful alternatives and I look forward to seeing data showing that consumers' decision to switch has indeed saved lives."