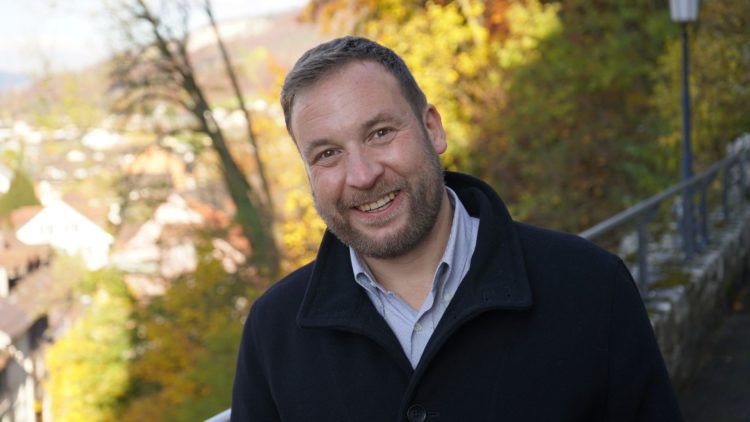 Meet Lukas Reimann, the MP and ex-smoker who helped legalise snus in Switzerland
Swiss MP Lukas Reimann explains how a chance encounter with Swedish snus helped him kick a 20-year smoking habit, legalise snus in Switzerland, and become an outspoken ambassador for smokeless nicotine products.
Lukas Reimann entered the National Council, the Swiss parliament's lower house, in 2007. He was 25 at the time, making him the youngest MP in parliament.
He was also a heavy smoker.
"I had no intention of quitting," he recalls.
But a couple of years into his first term representing the canton of St. Gallen as a member of the conservative Swiss People's Party (SVP), a friend encouraged him to try Swedish snus.
"I tried one, and then I tried another one and another one. And the next time I tried to smoke a cigarette I discovered I didn't like it anymore," says Lukas Reimann.
"So I threw my cigarettes away and haven't smoked since. And I've never regretted it."
But what was it exactly about snus that prompted this committed smoker to kick the habit after nearly 20 years?
He simply felt better.
"I felt stronger and more fit. I had more endurance," says Reimann.
Perhaps the best evidence of his improved fitness came when he was finally able to defeat his then-girlfriend – a professional handball player – on the tennis court.
Lukas Reimann: snus a 'perfect alternative'
In the decade since he transitioned from cigarettes to snus, Reimann has tried to introduce snus to other friends struggling to quit cigarettes.
"They've tried medicine, therapies, even hypnosis. And nothing helped. And then I gave them this small can and they've told me, 'I've stopped smoking! Thank you so much!'" he explains.
The committed libertarian believes smokers don't want to be seen as "sick patients". Thay may explain why so many resist medical approaches to smoking cessation. 
Snus, in contrast, offers smokers a range of choices that allow the consumer to feel that they are in control.
"You want to choose different brands and flavours, so snus is a perfect alternative," Reimann explains.
"With snus, you still get to be the consumer who decides. But you're not smoking anymore, which is of course much better."
Reimann also points out that he likes snus because his enjoyment of the product doesn't infringe on others in the way smoking does.
"Cigarettes always disturb those around you due to the passive smoke. But when you snus, you only affect yourself," he says.
The quest to legalise snus in Switzerland
As Reimann saw more people switching from cigarettes to snus, he began to look more closely at tobacco regulations.
At the time, snus was more or less outlawed in Switzerland. Domestic sales were banned, and only small amounts could be imported for personal use.
He decided to make snus regulation one of his primary issues, vowing to help update regulations to ensure the snus and nicotine pouches were covered properly in new tobacco legislation.
A first step was helping to educate fellow MPs. To do so, he brought a can of makla, a smokeless tobacco product originating from north Africa, and a can of tobacco-free "white" snus, to the floor of parliament in 2015. According to Reimann, dozens of MPs tried the white pouches.
"No one felt dizzy or ill," he recalls.
"Many could not understand why makla was legal but that snus wasn't."
He ultimately succeeded in getting signatures from 156 of 200 MPs representing every party in parliament to support his proposition to update the language of Swiss tobacco legislation and pave the way for snus to be legalised.
And in 2016, the National Council's Health Commission approved his parliamentary initiative to lift the ban on snus with a unanimous 27-0 vote.
"Many MPs realized there was no good argument for the regulations we had at the time," he recalls.
High court: Swiss snus ban 'arbitrary'
Around the same time, the Wellauer tobacco company, based in Reimann's home canton of St. Gallen, sued the Swiss customs agency for refusing to allow the import of a large shipment of snus from Sweden.
The company argued that the Swiss snus ban was unconstitutional. This sparked a prolonged legal battle that ultimately made its way to the country's highest court.
In June 2019, the Federal Supreme Court sided with Wellauer, ruling that banning snus while allowing other forms of tobacco was "arbitrary" and thus unconstitutional.
In its ruling, the high court rejected arguments that rested on the fact that snus is banned in the EU as a basis for a similar ban in Switzerland.
"If the ban on snus does not even apply to all states within the EU, it is difficult to see why a ban (…) should be necessary for Switzerland, for which EU law is not binding," the court said.
According to Reimann, the court case helped accelerate the legislative process by emphasizing that there was no legal basis for the snus ban in the first place.
However, the process has still taken a long time. The Swiss parliament finally adopted a bill with specific regulations for snus and other oral nicotine products in October 2021. And the new rules are set to come into force in 2023.
Snus trade booming at Swiss borders
Looking back on his legislative career thus far, Lukas Reimann is most proud of his efforts to legalise snus in Switzerland.
He's also seen a shift among Swiss regulators and health authorities over the years when it comes to harm reduction.
"At the beginning, they said they would never legalise any new tobacco products. But now they acknowledge the positive aspects of snus and harm reduction," he says.
As snus's popularity continues to grow in Switzerland, interest from residents in neighbouring Austria and Germany – EU countries where snus remains banned – is also on the rise.
According to Reimann, the number of shops along the Swiss border with Austria is increasing to meet growing demand from across the border.
"They aren't just coming from the towns near Switzerland; they are traveling from far away to cross the Swiss border so they can buy snus," he explains.
"If I were a politician in Austria or Germany I'd be asking myself whether I should make snus legal to simplify people's lives and keep the tax revenues than having them go to us in Switzerland."