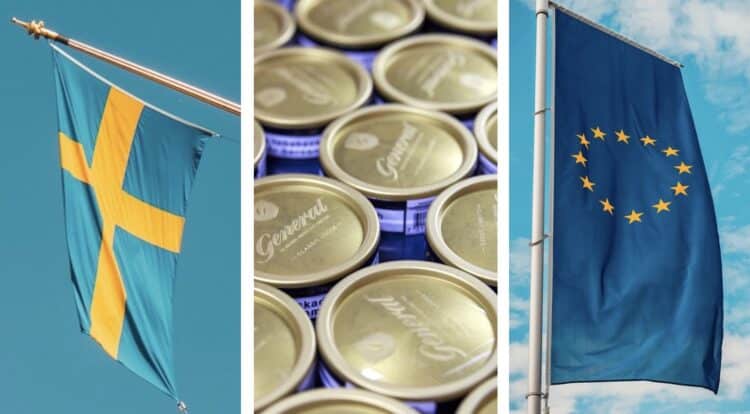 Leaked EU doc sparks 'snus shock' in Sweden
Weekend media reports about a leaked EU document purportedly calling for a steep increase in excise duties on Swedish snus sparked an angry "snus shock" among Swedish snus consumers and politicians.
"What's described is an unreasonable proposal," Sweden's Finance Minister Elisabeth Svantesson wrote on Twitter in reaction to the story, first reported by the Aftonbladet newspaper.
If the proposal outlined in a European Commission document were adopted, the price of a standard tin of Swedish Match-brand General snus would roughly double to around 120 kronor (€11). Prices for tins of portion snus would increase by about 34 kronor.
Anger from celebrity snus users
The reports sparked a "snus shock" among Swedish snus consumers, including many celebrities and other notable figures.
Author and criminologist Leif GW Persson, who is also a popular TV host and snus user, said he planned to buy a "huge supply" of snus.
"Out in the EU, people smoke cigarettes. Snus is actually a health product compared to cigarettes, without necessarily being healthy," he told Sweden's TV4, according to the Expressen newspaper.
Meanwhile, former Army of Lovers vocalist and snus lover Dominika Peczynski – who is in a relationship with former Swedish finance minister Anders Borg and now works as a PR consultant – complained that the proposal to tax snus the same way as combustible tobacco "defied logic".
"The societal damage caused by combustible tobacco is on a completely different level, she told the Aftonbladet newspaper.
Peczynski, who proudly consumes a tin of snus per day, has never thought about quitting.
"We're tough people. We'll just have to work a little harder. That's how we snusers are. We're good people, you know," she said.
Record producer and Swedish Idol jury member Anders Bagge, who is often seen on national television with a snus bulge under his lip, said he would continue to snus even if the proposed tax hike came into force.
"Would I quit? Not on your life! I'll continue as long as I walk on this earth," he told Aftonbladet.
He likened his snus to "a little security blanket under my lip", and went on to compare Swedes' love of snus to the love of wine in France, equating it to a part of the country's culture.
"This is something we've done for generations. It's like saying the French can no longer have a glass of wine at lunch," he told the newspaper, urging the Swedish government to fight the proposal.
Reactions to 'snus shock' not surprising
Patrik Strömer, Secretary General of the Association of Swedish Snus Manufacturers, understands the anger and frustration that has bubbled up among Sweden's million-plus snus consumers.
"It's not surprising that people have such strong reactions," he tells Snusforumet.
Some voices in Sweden's pro-snus chorus have claimed the country's permanent exemption to the EU snus ban, negotiated upon Sweden's entry in 1995, would prevent the EU from making proposals affecting snus regulations.
However, Strömer points out that the exemption didn't prevent the European Commission from trying to influence Swedish rules on snus flavouring in 2018.
"What's gratifying about this whole episode is that people are coming together to defend Swedish snus," he says.
Finance Minister: We will fight back
On Monday, Finance Minister Svantesson appeared on Swedish public service broadcaster SVT and delivered a clear message about snus.
"To even play with the thought of doubling the price of the Swedish snus is completely unreasonable and we obviously intend to fight it. The EU has nothing to do with how we tax snus," she said on the Morgonstudio talk show.
When asked how the tax increase would affect snus consumers if it came into force, she replied:
"My position is that it should not happen."
Members of the European Commission seem to have difficulty understanding the difference between snus and cigarettes, according to Svantesson.
"But we Swedes do. We know the difference and therefore we also believe that snus is Swedish, and that we can tax it as we see fit," she told SVT.
In the interview, Svantesson also pointed out the positive impact that snus has had in Sweden.
"In Sweden, we have a very low smoking rate, far below all other countries in the EU. And that's because many use snus instead. And even if snus is not a health product, it is still relatively better to snus than to smoke. Therefore, we think this [EU proposal] is a genuinely bad idea," she said,
Strömer says he is "confident" Swedish politicians will oppose the EU's proposal.
It's an important stance. And it is clear there is an awareness of harm reduction," he says.
However, he doesn't want Swedish politicians to forget about the need to rethink Sweden's current taxes on snus.
"Hopefully, it can inspire a decrease, and not a hike, in the Swedish tax on such an important commodity that so many people are proud of," Strömer tells Snusforumet.
Proposal appears on eve of Sweden's EU presidency
The leaked proposal has not yet been published in its entirety. Current plans call for the Commission to publish a final proposal during the first week of December. Then EU member states will have an opportunity to discuss and decide on the proposal.
Svantesson says the government will oppose the proposal once it's officially published. And considering Sweden's turn at the rotating EU presidency starts January 1st, the government will work hard to prevent snus from being included in the EU's tobacco tax directive.
"As president of the EU, you tend not to oppose various proposals too aggressively, but we will be very clear about this issue," says Svantesson.
The battle over snus is nothing new
This is not the first time that the EU has interfered with Swedish snus. Even after negotiating a permanent exemption, Sweden has had to defend snus against attempts from Brussels to regulate it.
For example, when a new tobacco bill was set to be approved by the Riksdag in 2018, the European Commission delayed the process with a letter calling on Sweden to ban flavours in Swedish snus products.
Following the "snus shock" uproar among Sweden's snus consumers, European Commission spokesperson Daniel Ferrie held a press conference on Monday to clarify the limits of the leaked EU proposal. Among other things, he emphasized that Sweden was exempt from the EU's ban on snus.
"The proposal we're working on now will not change this situation. Sweden will therefore retain its full freedom to set tax regimes and excise taxes for snus," said Ferrie, according to financial news agency Direkt.