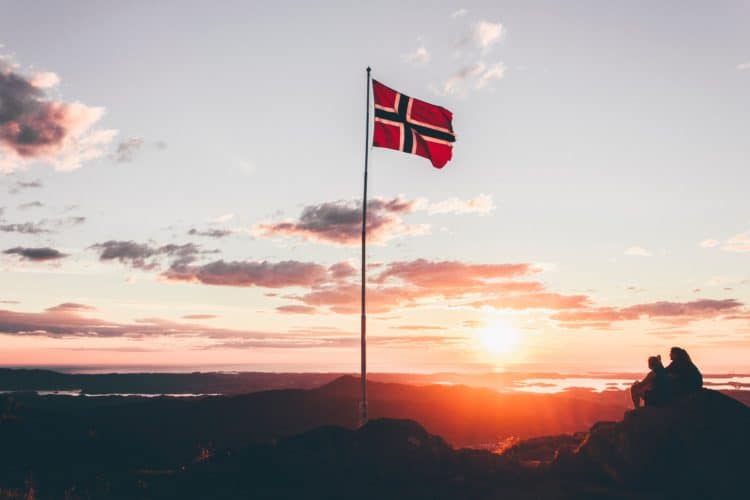 Snus and harm reduction: why smoking is down more in Norway than Australia
Norway and Australia boast some of the world's toughest tobacco regulations. But only one country has succeeded in virtually eliminating smoking among young people. And evidence suggests the availability of snus is a decisive factor.
Australia and Norway both ban smoking in public places. Marketing of tobacco products is also all but prohibited, and both countries have introduced neutral packaging requirements for tobacco products. Australia first introduced limits in 2012 with Norway following suit in 2018.
Both countries have also seen substantial reductions in daily smoking rates over the last two decades. Between 2001 and 2018, the percentage of daily smokers in Australia has decreased from 22 percent to 14 percent, while in Norway the prevalence of smoking has dropped from 30 percent to 12 percent over the same period.
Smoking down 90 percent
While both countries exhibit a downward trend, the reduction in smoking rates is greater in Norway than Australia, even though rates have dropped more evenly across all age groups in Australia.
The difference is particularly pronounced when looking at the percentage of daily smokers among 16-24 year olds.
In Australia, the figure was cut in half between 2001 and 2018, dropping from 28 percent to 14 percent.
While the reduction may appear impressive at first, it pales in comparison to the precipitous drop seen in Norway, where daily smoking rates among 16-24 year olds fell from 29 percent in 2001 to a mere 3 percent in 2018: a drop of nearly 90 percent.
Snus use rises as smoking rates fall
The downward trend of daily smokers among 16-24 year olds remains on the same trajectory in both countries until around 2007. In Australia, the trend then levels off. In Norway, it accelerates.
The divergence coincides with a steady rise of daily snus use in Norway, where sales of the product remain legal. In Australia, by contrast, snus and other forms of smokeless oral tobacco are prohibited.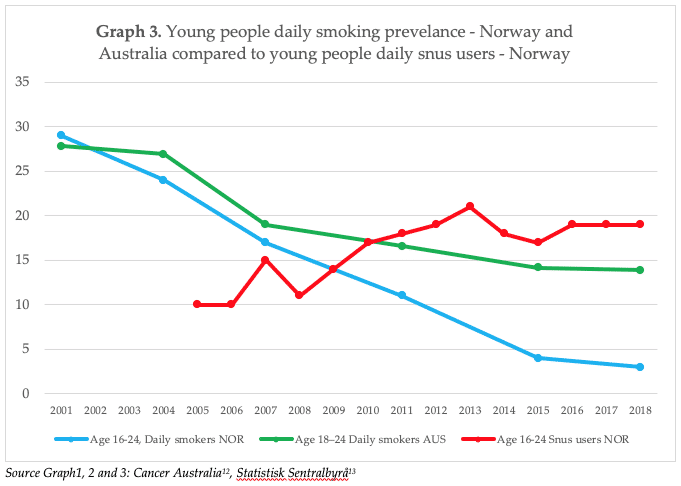 Between 2005 and 2018, snus use in Norway increased from 5 percent to 12 percent overall, and from 10 percent to 19 percent among 16-24 year olds.
And the trend in Norway continued in 2019. According to fresh figures from Statistics Norway, daily smoking rates among 16-24 year olds have now dropped to only 2 percent, while snus use has risen to 20 percent.
Meanwhile in Australia, 14 percent of 16-24 year olds still smoke deadly cigarettes on a daily basis.
Smoking "non-existent" among young adults
"Smoking is more or less non-existent among young adults in Norway. Looking at the data, it's hard to deny that snus has played a key role in what should be considered a huge victory for public health in Norway," says Patrik Strömer, head of the Association of Swedish Snus Manufacturers.
Strömer adds that the figures should be a wake up call for public health authorities in Australia and other countries that have banned snus.
"Outlawing less harmful nicotine products ultimately limits the success of broader anti-smoking efforts," he says.
Snus and harm reduction
According to Strömer, there is no longer any debate that snus is safer than cigarettes. He believes the Norway example proves that the availablility of safer alternatives to cigarettes makes it easier for adult smokers to quit smoking or never start in the first place.
"Developments in Norway clearly demonstrate the benefits of snus and harm reduction for reaching our goal of a smoke-free world," says Strömer.