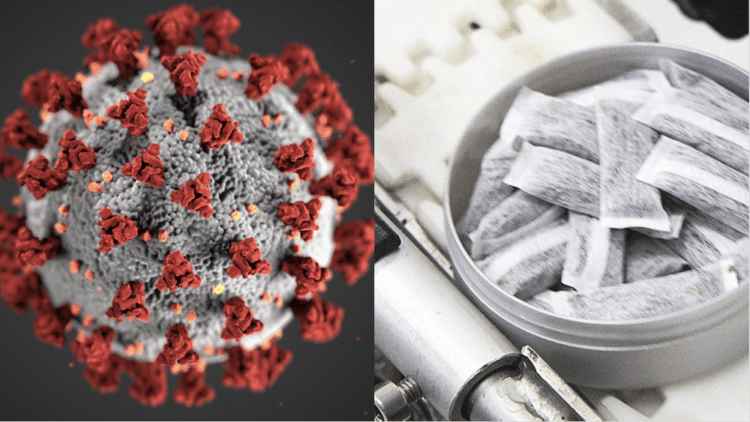 Swedish study sheds new light on nicotine-Covid links
Nicotine from tobacco does not protect against Covid-19, a new Swedish study has found. However, the study also adds to the body of evidence suggesting that smokers are somehow protected from Covid-19 infection. It remains unclear why.
The study, carried out by researchers from Karolinska Institutet in Stockholm and published in Scientific Reports, examines data from 424,386 residents living in and around the Swedish capital.
The aim was to evaluate whether smoking had an impact on Covid-19 risks and explore whether those risks were tied to nicotine, specifically, by comparing health outcomes for snus users, smokers, and non-tobacco users.
Researchers were able to cross-reference data about tobacco habits prior to the pandemic from dental records with medical records detailing Covid-19 diagnoses between February and October 2020.
"Methodologically, this is one of the best studies to date on this topic as it is based on a whole new cohort of population-level data," says Tryggve Ljung, VP for Scientific Affairs at Swedish Match.
No nicotine-Covid protection
The study found no evidence that nicotine from tobacco had a "protective effect" against Covid-19. Snus users, meanwhile, were found to have a slightly higher risk of being infected with Covid-19. However, the data showed no association between snus use and an increased risk of hospitalization or developing serious symptoms.
"This study further contributes to the data demonstrating that current smokers are protected from being infected with Covid-19," says Ljung.
"Snus use, per se, does not affect the health outcomes of contracting Covid-19."
Plans for the study were announced back in the early months of the pandemic, following several studies suggesting that smokers were at a lower risk of developing Covid-19 and under-represented among patients hospitalized with serious Covid-19 symptoms.
While smokers account for the overwhelming number of tobacco users in most countries, most tobacco users in Sweden consume snus. As a result, the Swedish population offered researchers the opportunity to create a unique data set for exploring possible smoking-, snus- or nicotine-Covid links.
"With such a large sample size of non-smoking nicotine users, Sweden is in a unique position to add to the growing body of research regarding nicotine and its potential effects on the coronavirus," Mark Oates from the UK-based New Nicotine Alliance (NNA) wrote at the time.
Smoking-Covid mystery remains
In announcing the study in May 2020, Cecilia Magnusson, Adjunct Professor of Public Health Epidemiology at Karolinska Institutet and co-author of the study suggested to the Dagens Nyheter (DN) newspaper that if researchers in Sweden discovered that snus offers some level of protection against Covid-19, it could have led to the development of a nicotine-based treatment for the disease.
But the results of the research suggest there won't be plans for a nicotine-based Covid treatment anytime soon. Moreover, the study adds to the growing mystery regarding the dynamic between smoking and Covid.
"The conundrum of a possible causal negative association between current smoking and Covid-19 remains unanswered," the authors write.
According to lead author Prof. Maria Rosaria Galanti, the Karolinska study is part of an international cooperative research project between Sweden, Finland, and Norway.
"In this project we analyse different population-based datasets to investigate the association of interest in different contexts," she tells Snusforumet.
The study from Finland, published in December 2022, also failed to support the hypothesis that nicotine provides protection against Covid-19. The study from Norway, entitled Tobacco Use and Associations with SARS-CoV-2 Infection in Two Norwegian Cohorts, has been submitted for review but has yet to be published.