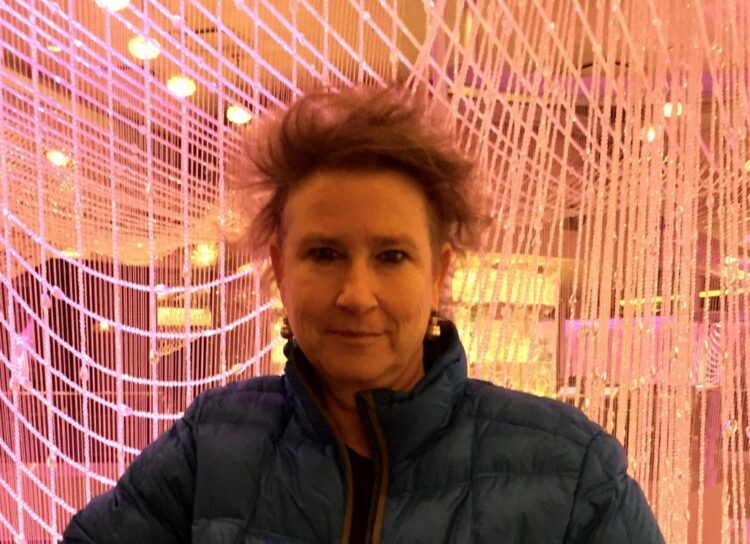 Helen Redmond: Toward a US harm reduction strategy, one story at a time
In this instalment of our Harm Reduction Heroes series, Snusforumet talks to Helen Redmond, a social worker, journalist, and passionate champion of safer nicotine products, especially for the most vulnerable in society.
Primarily an expert in substance use, Helen Redmond also boasts an impressive background in harm reduction. 
For more than two decades she has worked as a licensed clinical social worker, providing support to people who use drugs and live in harm reduction-based housing. She also provides training and consultation on mental health and nicotine use, and in 2016 organised the first Tobacco Harm Reduction Conference in the US.
"I had a kind of lightbulb moment in 2013, when a German friend brought back some vaping products from Germany," Helen tells Snusforumet.
"Around 90 percent of the people in our harm-reduction housing were smokers and I suddenly realised that we were not addressing smoking. They had stopped or dramatically cut down using heroin, they'd cut down on the alcohol, but they were all still smoking."
A matter of life and death
The problem was that, having already given up their drug of choice, they weren't keen on the idea of also giving up nicotine.
Sadly, most of the people in Helen's harm-reduction housing programme suffered from anxiety, depression, schizophrenia, or were bipolar. Due in large part to smoking-related illnesses, people with these conditions die on average 25 years earlier compared to the general public, according to a 2017 study by researchers at Stanford University.
How to reduce the harm of tobacco use was, and is, literally a matter of life and death.

"They had kicked all the other drugs and they were like, 'I've given up all these other drugs, so just let me have my cigarettes. Please leave me alone: it's legal, so I'm not going to end up incarcerated. I enjoy it.' And that's kind of powerful, right?" she explains.
"But it's the smoking that ends up killing people. It's combustible tobacco, more so than heroin or alcohol. It's the cigarette. So we started to provide smokers with vaping products. And that's how it all started with me and tobacco harm reduction."
Engaging US public health officials
From there Helen helped organise a tobacco harm reduction conference in Brooklyn in 2016. It was the first time a conference specifically addressing smoking among people with a psychiatric diagnosis had been organised in the United States.
The conference brought together harm reduction experts from around the world. But even more significant for Helen was the attendance of representatives from the New York City Department of Health and Mental Hygiene.
"When we started out on this we knew right away we had to work to try to convince people in public health to get on board with tobacco harm reduction," explains Helen.
"Without that support meaningful progress is difficult."
However, attracting sustained and significant support from the public health authorities has proven difficult. As with the ongoing so-called 'war on drugs', nuanced thinking on addiction and harm reduction issues is rare when debate in the public arena is often driven by ideology.
Helen Redmond: 'Abstinence will not work'
"The United States authorities just preach abstinence on most drug- or addiction-related issues," says Helen Redmond.
"The evidence has been in for decades. Abstinence will not work for most people and why should it? There are millions of us who medicate. There are people who take high blood pressure medication every day, people who take insulin. I have to inject myself once a week. My life is better for it.
"But when it comes to nicotine, users are just told they must stop. For millions of people, nicotine delivered in safe products such as e-cigarettes, snus, nicotine pouches, and nicotine gum, makes their lives better. Why on earth should they have to practise abstinence?"
Snus and nicotine pouches, Helen feels, are somewhat underappreciated in the United States as harm reduction nicotine alternatives, even if US sales of nicotine pouches in particular are booming. According to figures from the US Centers for Disease Control and Prevention (CDC), sales of nicotine pouches grew 300 times larger during the first five years since pouches became available in the US market in 2016.
Other figures from Stockholm-based snus manufacturer Swedish Match show that sales of its ZYN nicotine pouches up from 150m cans sold in 2020, to around 300m cans in 2021.
"I think it's so great that snus and nicotine pouches are available for people," Helen said.
"And I'm aware of the studies that found the stunning drop in the rates of smoking in Sweden. These products work for millions of people who enjoy nicotine, and they're very discreet. And you can use them in situations where vaping might not be possible, for example, if you're on a plane or some kind of public transportation system. Snus and pouches are great products, although I think they could be used more in the United States."
A national harm reduction strategy
The ultimate goal of Helen and other harm reduction advocates in the United States is the creation of a national tobacco harm reduction strategy. Helen believes snus and nicotine pouches could play an integral role in such a strategy, with safer nicotine products being offered to groups with the highest rates of smoking, and thus the highest rates of morbidity and mortality.
"Approximately 480,000 people die every year in the United States from a smoking-related illness," she explains.
"We know who they are, we know where they are. So that means we need a mobile nicotine van that goes into neighbourhoods that have the highest rates of smoking. And we need to offer them an array of safer nicotine products. That's e-cigarettes, snus, nicotine pouches, and nicotine gum. Anything, basically, that stops them burning tobacco."
Humanising vulnerable groups through storytelling
In addition to her career as a social worker, Helen has in recent years served as a journalist and senior editor with Filter magazine, an online magazine founded in 2018 that advocates for rational approaches to drug use and harm reduction, and a more compassionate US drugs policy.
Helen is passionate about the importance of storytelling and believes her stories for Filter help put a human face on harm reduction by offering real-life tales of drug and nicotine users and their endeavours to live less dangerous lives.
"People who smoke are stigmatised. They're left out of the national conversation," she says.
Helen Redmond believes the new goal of the public health authorities is to demonise and stigmatise people who use e-cigarettes, even though these devices are much safer than conventional cigarettes and will save countless smokers' lives.
"So, to combat this vilification, what I try to do in my work is tell the stories of the most vulnerable groups of smokers, to humanise them so that people know that they actually exist and that they are real people.
"My storytelling is about the real struggles people have with smoking. And about how with the invention of safer nicotine products, we're in a world now where we can actually help people make that transition away from burning tobacco. And also tell the stories of the amazing people who have done it.
"These are the voices that I want to amplify – because right now they're being totally ignored."